It seems like a good while ago I read a post on our 500 meter Fly Shooter website about a bloke, Mike Cockcroft from Texas USA who contacted Les Fraser (forum administrator) making suggestions about running 500 meter Fly Shoot matches at his range near Huntsville Texas.
Mike had noticed our style of shooting from the website and thought it would be a good idea to run postal matches against each other "just for fun".
"What do you think?" asked Les on the forum.
I didn't hear a single negative comment. In fact, most people got downright excited about it. An international flavour to our homegrown shooting discipline could only be fantastic. I think a lot of us went into auto mode & began daydreaming about a US holiday and shooting the "Fly" on the way through Texas! Eating deep-fried everything with about a hundred beers then earning a Texan Fly patch from Pine Valley range the next day! What could be better?
Mike had work to do & clearly got "stuck right in". Dave Groves, Anthony Hall, Les Fraser & other Aussies helped our new mate from Texas as much as they could, but it was Mr Cockcroft who was on the ground & some 14000 kilometers (8700 miles) away doing all the heavy lifting.
I suppose Mike could have adopted a watered-down version of Fly Shooting, a version that was more convenient for him to establish but he is clearly an ambitious man and to his credit he decided to be true to the Fly Shooter brand and initiate these upcoming matches "to the letter".
He had many issues to overcome and I think it's about now I should provide a basic overview of what Fly Shooting is all about. (Australian readers please be patient as it's likely there are overseas shooting enthusiasts reading this who know little or nothing about the "Fly").
Fly Shooting is a benchrest discipline shot over 500 meters (550 yards). Similar in kind to 100-200 yard benchrest and 600-1000 yard benchrest matches but with a variety of different rules specific to Fly Shooting.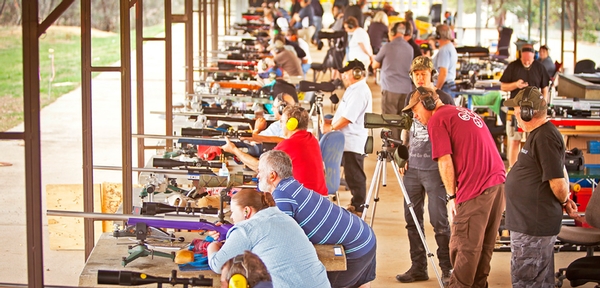 Fly Shooting is a 'shoot for score' event.
The target has scoring rings from 1 to 10.
The 10-ring measures 46.7 millimetres (1.84 inches).
The total scoring area is about 220 millimetres (8.7 inches approx.)
Within the 10-ring is a silhouette of an Australian March fly (these mongrels can take your leg off if given half a chance).
An additional .01 of a point is awarded if you can shoot a "Fly", thus the name "Fly Shooting"!
Also, a specially embroidered "Fly Patch" is awarded to any shooter who hits a "Fly" in recognition of this achievement.
Additionally, bonus points are awarded for group size with 10 points given for a group of 1 inch or under, 9 points for a group of 2 inches, 8 points for a 3 inch group and so on.
A target consists of 5 scoring shots with 3 sighting shots allowed during the course of fire. These sighting shots are onto a blank painted steel plate that sits below the target.
A match consists of 5 targets.
A maximum single target score is 5 tens (50 points) with an under 1 inch group (10 points) and 5 fly touches (.5 points) ie 60.05 or 60 points with 5 (fly's.). This has never been achieved in our over 20 year history!
No real need to go into all the rules but suffice to say there are 2 categories, light rifle and heavy rifle.
In order for Mr Cockcroft to run his Fly matches "to the letter" he needed to survey his range to 500 meters, have the targets printed to exacting specifications, have the Fly Patches made, construct the metal sighting plates & then build target frames that could handle both targets & metal sighting plates!
No small ask but Mike is obviously a committed bloke and all was done "quick smart & in a hurry".
Mike & David Groves (Australia) corresponded & spoke regularly via phone & it was decided the first (trial) match was to be in September 2017 with the possibility of 4 matches to follow in 2018.
By way of explanation, Fly Shooting in Australia conducts "registered" matches at 6 different ranges. Those being Little River near Melbourne Victoria, Wagga Wagga in southern NSW, Canberra our national capital, Batemans Bay on the south coast of NSW, Brisbane in Queensland & Perth in Western Australia.
Unofficial Fly matches are also held at many other clubs around the country.
We have a genuine circuit of ten matches per year divided between these 6 ranges.
There would be postal matches versus the Pine Valley club at Canberra, Little River, Batemans Bay & Wagga. The Wagga match was later transferred back to Canberra for that club's second match of the year.
There was an authentic air of excitement and anticipation as the first match approached.
It's fair to say that most Aussies probably don't know a hell of a lot about Texas. I guess most things have been learned from the tele!
I was aware that poor old Davey Crocket met his maker at the Alamo which is in Texas.
I knew the world's biggest A-hole (JR) and the world's most beautiful woman (Pamela) lived on Southfork in Texas (a small clue to my age) and that Astronauts keep getting into trouble and calling Houston with their problems.
I know that everything is bigger and better, it's hot & they like spicy food, especially Nachos!!
Most importantly, I knew they love to shoot!! I think we all knew that one.
What we didn't know, but most certainly do now, is that Texans (just like Aussies) LOVE to take the piss!
As the match got closer the banter increased.
There was lots of Y'alling and We'alling.
Ass's were going to be whipped and Step Children everywhere were to be beaten like…..well…… Step Children (Texan humor).
Tongue in cheek finger poking at it's best. It was great!
Cases were sized, powder was weighed & seating depths carefully checked.
Motels were booked, caravans were hitched & swags packed. For many, a long drive commenced.
Arriving at the range on the Friday the tedious job of putting out wind flags was completed and then off to the pub for a few beers and a meal.
As always, the conversation was amicable. Obviously, the common theme was about the Texans & the postal match.
I guess most Aussies were fully aware that the shooting sports, generally, are a lot bigger in the US than in Australia.
We also understand that many of the high-level components used to build the very accurate rifles required to be competitive come from the US and so it was assumed their rifles would be very accurate indeed.
What we had in our favour was experience.
Every shooting discipline requires strategy and we've been shooting the Fly for a few years so we guessed we might have an edge with this.
We could, with a beer in our hands, speculate until the cows came home but we all knew the biggest factor affecting the result was going to be the weather.
What was going to happen in Canberra & what was going to happen in Huntsville Texas was anybody's guess.
So……What happened?
Well, we copped some serious crap from the weather but we battled hard & ended up with reasonable results for the conditions.
Greg Chapman from the Wagga club won the day for the Aussies with a credible 238 with 4 Fly's.
We wondered how the Texans would fare in their very first Fly match. Anthony Hall reckoned, because of the conditions we had just experienced, that they would give us that "Ass" whipping spoken about pre match. Dave Groves, for the same reasons, thought we might get beaten like a "step child" which was also mentioned pre match.
Both gentlemen were 100 percent correct. The Texans blew us out of the water & not just by a little bit.
Of the top 15 places only 5 were Australians. They belted us in every measurable way with higher scoring targets, smaller groups & more Fly hits.
From the Texans perspective it was an extraordinary success & they were entitled to feel very proud of themselves. Hell, WE were proud of them!
Anyway, Mike Cockcroft had a toe in the water with Fly Shooting & he wished to pursue the game with a season of 4 matches in 2018 complete with shooter of the year presentations at it's conclusion.
We, in Australia would swallow our pride & conduct the 4 postal matches complete in the knowledge that if the weather conditions were comparable the matches would certainly be competitive!
March 2018 saw the first "official" postal match & the Aussies were back at our National Capital of Canberra.
Australia certainly picked up their game this time with 13 of the top 15 scores being Aussies.
Barry Tucker top scored with 251 with 6 Fly's. However, Denny Henderson from Texas was probably "man of the match" as he not only placed 2nd outright with a wonderful 245.03 but cleaned his Texan shooting mates by over 20 points.
Relative to the other scores I reckon Denny was the stand out.
The next postal was held in May 2018.
The Aussies travelled to Little River, a small town not far to the west of Melbourne. Many of us were right to be concerned about this one because Little River, beautiful but brutal, is notorious for it's heavy weather conditions with bragging rights often allocated to the LOWEST winning score.
I recall a light rifle category being won with the grand total of 70 or so points!
High winds, heavy rain, brilliant sunshine with thick mirage, all in one day is often the case.
Fortunately for the Aussie shooters the weather Gods smiled upon us. The heavy weather did not really come enabling us to put down some relatively good scores for this range.
Tyson Trotter on his home track bagged a rare double winning both categories in so doing claiming 1st & 2nd places outright.
From the Texan's side, that man Denny Henderson did it again with a 239.02, good enough to place him 4th outright & winning the Texan's leg by a comfortable 12 points.
This was a reversal of the very 1st trial match with 10 of the top 15 place getters being Aussies.
Despite this, the Texans took out the coveted "highest scoring single target" award with Donnel Gaines scoring a remarkable 59.04.
It should be said that 59.04 was the record highest target scored in Australia until just last year when Grant Groves scored a 60.0, (unluckily missing 3 Fly's by the smallest of margins).
The Texan's also grabbed the small group awards in both categories with a group of 1.118 inches in heavy gun & (I think) Donnel Gaines great 59.04 measuring 1.192 inches in the light rifle category.
Had these shooters been in Australia they would have qualified for our rare "screamer patch" awarded to any competitor shooting a group of 1.25 inch or under. This is a recent innovation in Australia and very few "screamer's" have been awarded!
(Actually, non have been awarded as we haven't settled on the design of the patch just yet but a few shooters have qualified).
The next postal was to be in June & for the Aussies this meant travelling to the beautiful NSW coastal town of Batemans Bay.
The Deep Creek shooting complex at the "Bay" is well protected from the coastal breezes & as such high scores are often possible. Les Fraser once steered his 300 WSM to a massive 283.06 at the "Bay".
There can be plenty of mirage in the warmer months but June is in the middle of winter so expectations were high.
A big weekend was in store for the Aussies with the 500 meter center fire match on Saturday and the recently introduced 200 yard rimfire Fly match on Sunday. A huge field with over 70 entries meant 5 details & a long day.
The competition was fierce with 16 Aussies scoring 240 or more points. Grant Groves won the match outright scoring 256 .04 with his heavy gun just beating Brian Wray by a single Fly hit.
This was always going to be a big ask for the Texans who would be shooting in the heat with the accompanying mirage.
That fact didn't seem to worry Larry Klutts though as he got the better of Denny Henderson by 13 points with a fantastic 252.02.
One more match to go and for the Aussies that meant back to Canberra.
September could be hot, cold or both. Anything's possible in springtime Canberra.
I guess it's fair to say the Aussies were feeling confidant with regard to the "for fun" postals. The last three matches had gone our way but we were well aware there were some pretty good performances coming from the Texans.
The competition in Australia has become very tight over the last few years. It's common for the top 10 places to be separated by a handful of points and matches have been won & lost by Fly hits. It's the level of consistency more than anything that has favored the Aussies throughout this informal series.
The conditions in Canberra ended up being (for me) very difficult.
When posting the match results in our Flyshooter forum Dave Groves suggested that conditions were "light but tricky" presenting a challenge to all.
Well…..Dave had a relatively good day so "light but tricky" might have been what he saw but what I saw was 5 MOA of wind switch from left to right in the time it took me to load another round.
My heavy gun effort was embarrassing but I wasn't the only one to get completely lost on a day that was pretty rugged.
No excuses though, it was what it was!
My bench partner, Kenny Perrin, took out the day with a 237.05 by making the most of the conditions when they presented & not fumbling around in the dark like me.
It was exhibition shooting & he thoroughly deserved to take the points.
What about the Texans? How did they go?
Mike Cockcroft posted on the Accurate Shooter forum that they had encountered the worst conditions they had seen on the range!
They too had "tricky" wind conditions with soup-like mirage for most of the day. I'm sure I also read they had encountered thunderstorms as well.
When the shooting stopped & the points were tallied, a first-time Fly Shooter in West Young had scored a remarkable 258.05.
Additionally, a seasoned shooter but new to the Fly in Joe Duke was right on West's tail with a very impressive 256.04. It's no surprise these two shooters placed 1st & 2nd in the combined scores.
In fact seven of the top dozen scores were Texans.
Joe Duke shot the smallest group with a 1.125 and also shot the light gun high score of 235.01.
In every way & in difficult conditions the Texans, in the last postal of the year, were superior!
Of course any direct comparison in these "for fun" postal matches is futile.
What happens on different ranges 14000 kilometres apart on different days in different seasons & in different weather conditions is impossible to reconcile!
It is possible though, to consider the Texans form & compare it, generally to OUR progress with this game.
I was shooting in Canberra only a hand full of years or so ago when Pete Van Meurs blasted an Australian match record in the light rifle category.
We were shooting in variable conditions & often through heavy mirage. I was in contention when on our D target I quickly rattled down my 5 shots not seeing any of them land through the mirage. I was told by another competitor that it was tight group which got me excited. Unfortunately that group was well outside the scoring rings, game over! (Does this sound familiar Texan's?) That's Fly Shooting!
Pete Van went on to set that record with a score of 254 with a few fly's.
It was a great score on the day, no doubt about it but it has been surpassed many times over the last 5-6 years.
In Texas, West Young surpassed that score in his FIRST match, Joe Duke surpassed it also after only a few attempts. (yeah, yeah, they used heavy rifles but that doesn't matter that much, not really).
The Texans also know how to shoot small groups with 3 shooters going under the 1.25 inch mark. As previously mentioned this feat qualifies Aussie shooters for a "screamer" patch recognizing this achievement.
22 Texan entries topped the 220 point mark in these matches with 6 of them scoring 239 or more & 3 of them scoring over 250.
Now, 250 is a bit of a benchmark. If you can score 250 in ANY conditions you're doing OK, so in my humble opinion the Texan's, with a bit more game time are going to be very very serious competitors.
Consider also, the Texan's are a relatively small group at this time while the Aussies come from all over our country to compete. So, weight of numbers matters!
It's not my job to tell the Texan's how to suck eggs but when they get a handle on how to manage the mirage & shoot blind off the "splash plate" & learn how to efficiently manage the allowed 3 sighting shots, we as Aussies will probably get "beaten like a stepchild" every time we go out.
Regards to our new Texan mates, and congratulations to Denny Henderson for winning the Shooter of the Year.
Belly.