Have you ever stopped to ponder what it would take to consistently hit a March fly half a kilometre away? Most 'normal' people wouldn't have ever entertained that thought. However, the 81 competitors who attended the SSAA Fly Shoot Nationals, over the Queen's Birthday Long Weekend, contemplate that very question all the time.
The thrill of competition drew participants from as far away as Tasmania, Mackay and Perth to the small sea side town of Batemans Bay, situated on the far South coast of NSW. Saturday would see them shoot Light Gun (LG), Heavy Gun (HG) on the Sunday and conclude with the 200yd Rimfire event on the Monday. As the forecast called for light winds and slight cloud cover for Centre Fire, the writing was already on the wall; It was going to be an exciting three days.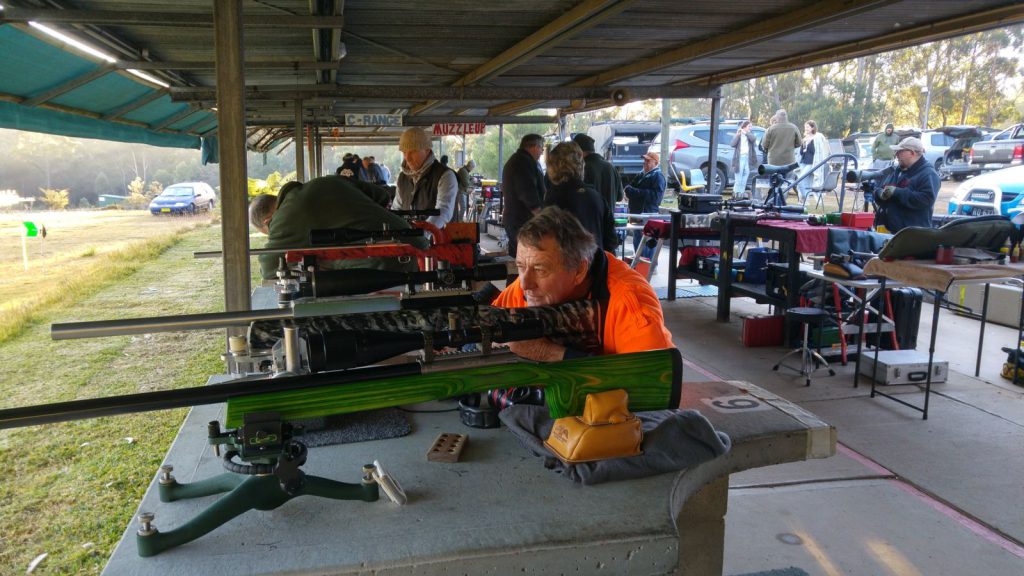 As the competitors woke for LG on day one they could see that the Bureau Of Meteorology had got the forecast right, you could almost feel the buzz as competitors started to gather, their discussions turned to high scores and tight groups. If you were lucky enough to walk the line and discuss the days proceedings you would have heard some chatter of unexplained vertical and flyers from some of the competitors, while others talked excitedly about their scores and targets.
The day would see 63 competitors shoot at some 315 business targets. At the end of the day they had managed to not only hit 145 flies, seventeen competitors had posted scores over 250 (a gold proficiency award effort) and the course record for LG highest target had been beaten by Peter Merriman with a 59.03.
Dave Groves top scored with a 273.06 (yes that's 6 flies). Robert Jackson shot 272.04 and Tony Ryan shot 268.05 taking third place on the podium. Young Beau Locke took out the juniors with a fantastic 213 and 2 flies, a great effort!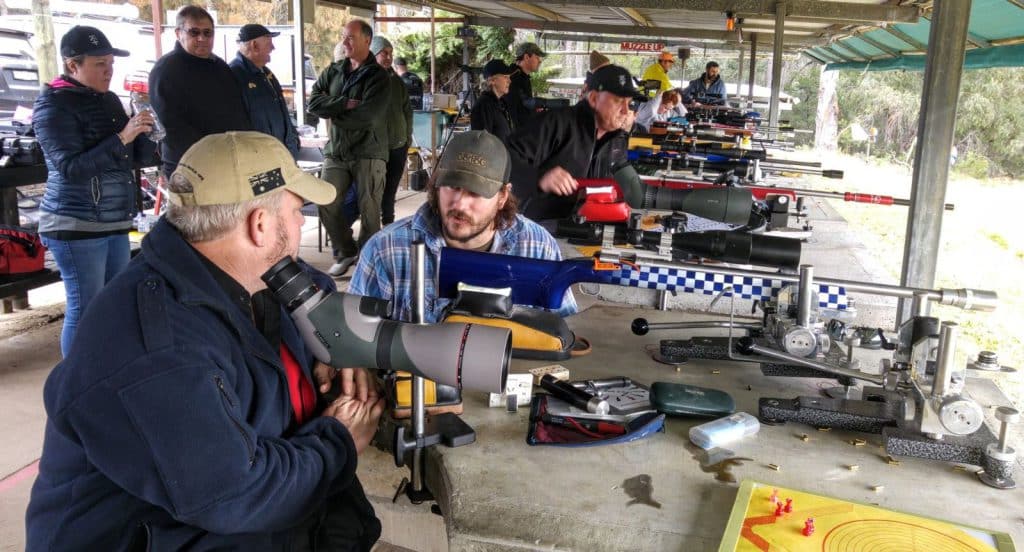 If day one was a good day to shoot a fly then day two was a great one, the gentle wind from the previous day had abated to a light breeze. The talk had now turned to the scoreboard and what it would take to catch the leaders. It was going to be a day when you could really find out how accurate that load for your rifle was, and what a day it turned out to be.
When the dust had settled and the scores tallied it was Michael Bell (aka Belly) shooting a score of 284 and 9 flies that not only saw him take out HG but also the Jim McKinley trophy for overall Centre Fire Fly Nationals winner, in second place was the ever consistent Grant Groves with 276.06 and third was Vince Vaina with 268.08. This time it was Stella Cross taking out the juniors with William Bailey a very close second, both shot their gold medal proficiency awards with 251.02 and 250.
Belly's score is also a new National record for highest aggregate (5 target) score. In HG twenty three shooters had scored 250 or above and 175 flies had been hit. At the conclusion of the day second in HG was the ever consistent Grant Groves with 276.06 which also saw him take second overall in centre fire, 3rd in HG was Vince with 268.08. Dave Groves took 3rd overall in centre fire with a 273.03.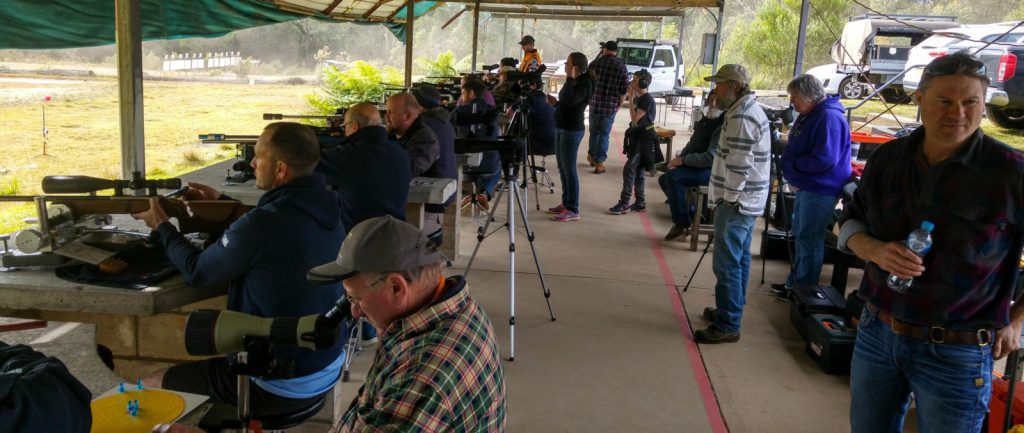 For day three it was time to pack away the "big guns" and pull out the Rimfires. Typically as soon as you take one out of the safe the winds pickup and Monday was to be no exception, the forecast called for winds over 20 kph and gusts to 40. It was going to be a hard day at the office, for some at least, two competitors would make it look easy.
Kathy Dundas and Ken Perrin both managed to score 257. As is typical with this calibre of shooters, positions are often determined by hits on the fly. Kathy would take 1st and the Stuart Elliot Cup for the winner of the Rimfire Fly Nationals as she hit 6 flies, 4 on one target, and young Ken nailed 1 an astonishing feat by both, 3rd on the podium would once again be Tony Ryan with a 243.01. Stella Cross took out the juniors with 197 and Keegan McGrann was a very close 2nd with 196.01. In all 68 competitors would hit 95 flies.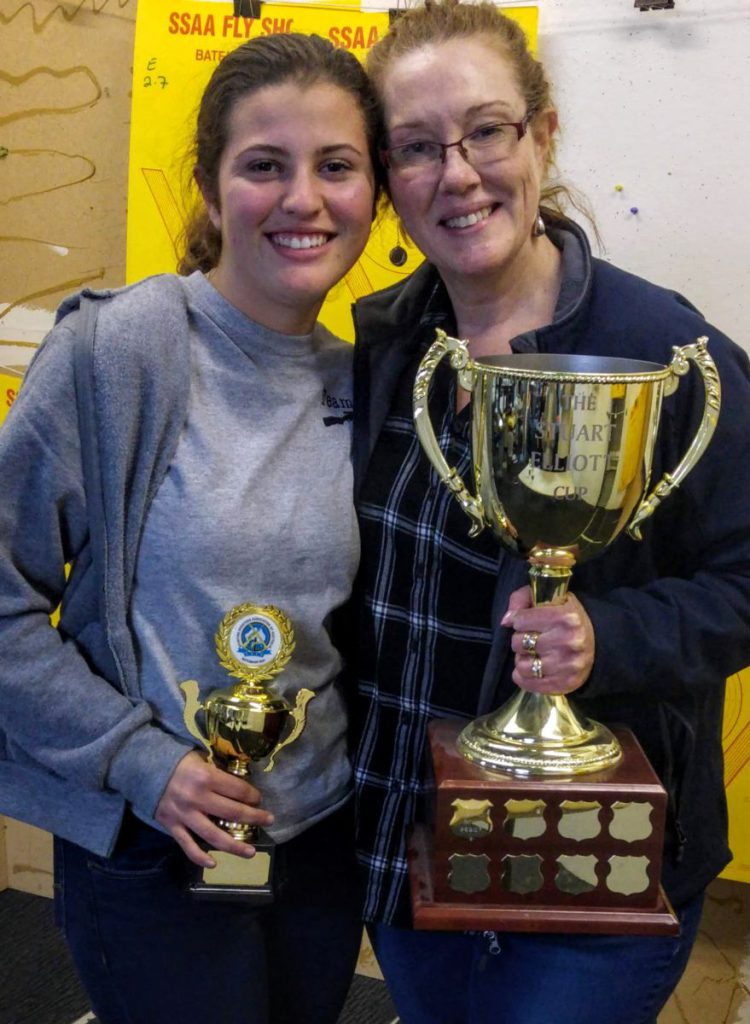 At the end of the 3 days it was Mr consistency, Grant Groves scoring a total of 783.13 and walking away with the 3 gun trophy and the Nightforce voucher. Ken Perrin was a very close 2nd with 782.10 and Belly for 3rd with a 775.15. As a result of his win in HG and his 3rd place in 3 Gun Belly would also amass a total of 9 points that would see him be the first to be inducted into the fly shooter hall of fame.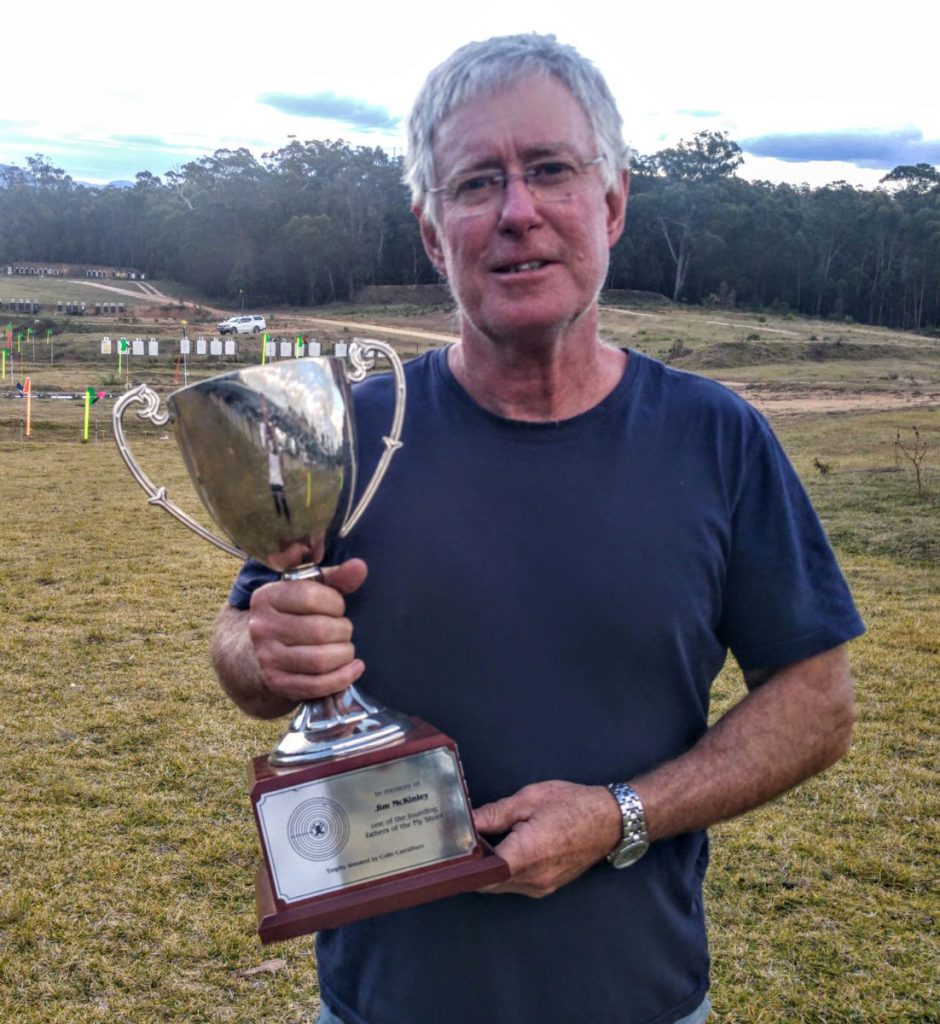 I would be remiss in my duties if I did not note that events like this don't just happen. A lot of hard work and time goes into organising an event as big as this. I can't possibly mention all the names but Bryson Payne and Anthony Hall contribute so much time and effort, how could you forget the target crew who changed over 1500 targets and Steve and Pete who scored them all. John Woollams for all the data entry, the volunteers that look after the canteen and BBQ and of course the fantastic competitors. No wonder it is such a great sport!