Around 40 competitors made their way to Little River in Victoria, to contest the 2023 Fly Shoot Nationals sponsored by NightForce. The Bureau of meteorology predicted a very cold southerly front to pass through over the course of the 3 days, they certainly got that right.
For those who have never experienced Little River, it has a reputation of being extremely windy, making it a challenge for even the most experienced shooter, allegedly causing some competitors to weep as they retire from their benches 😀 It's been recorded that scores less than 100 points have won previous Fly events.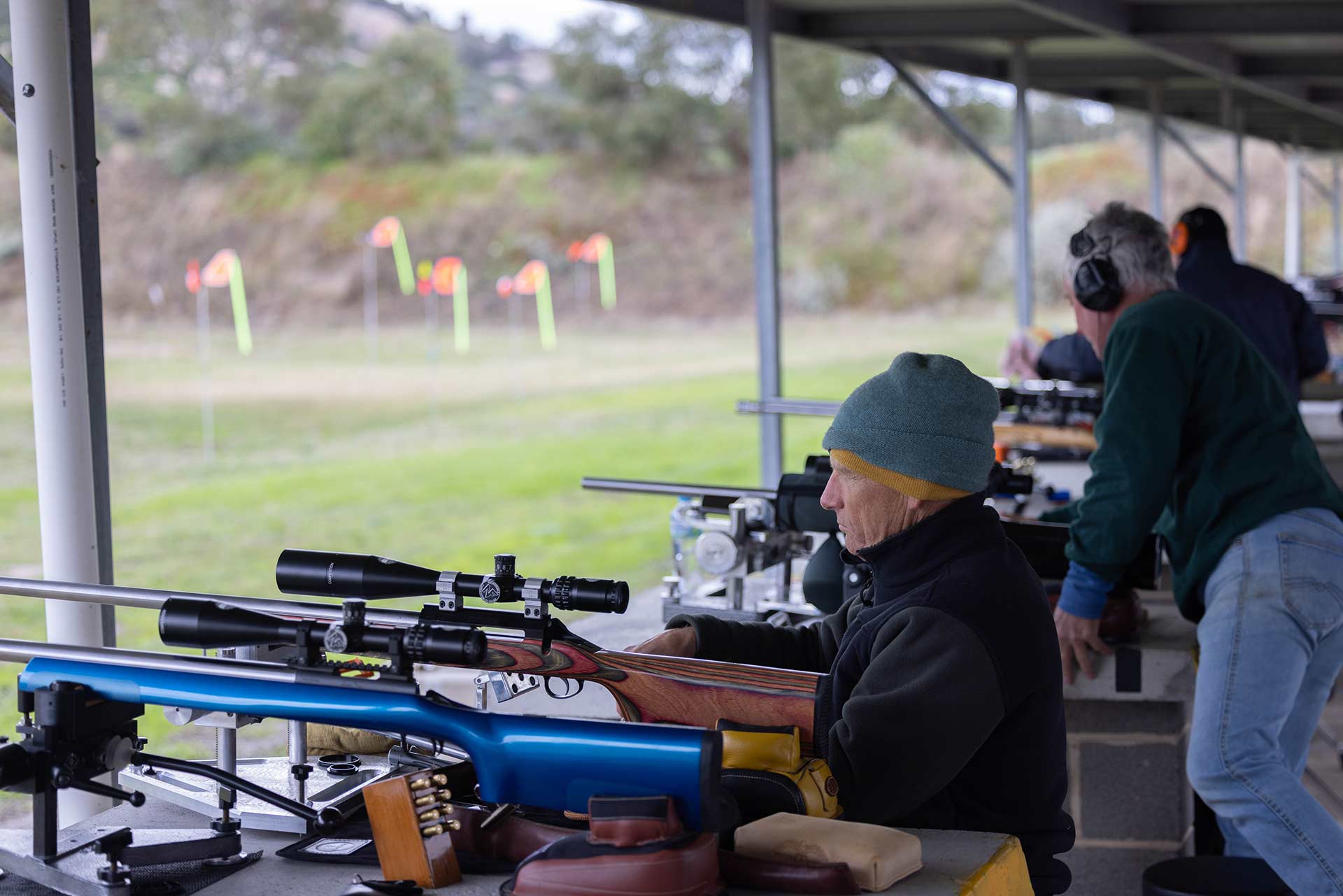 Something I hadn't heard was how picturesque the range was and as much as I would like to describe it I just don't have the vocabulary do it justice. Even my photos struggle to capture the beauty.
It was fantastic to see both Juniors, Callum and Eli, shoot well over the course of the weekend in some very trying conditions. It's reassuring to see our sport will continue to be in some very capable hands. Great Stuff!
On Friday, participants arrived to set up the wind flags, that's when many realised Little River's reputation was certainly not exaggerated. I have it on good authority some couldn't keep theirs from blowing over and had to make a quick trip to Bunnings to purchase star pickets and what seemed like 2 kilometres of rope to try secure them. This was just a prelude to what was to come; The weather was about to take a turn for the worse.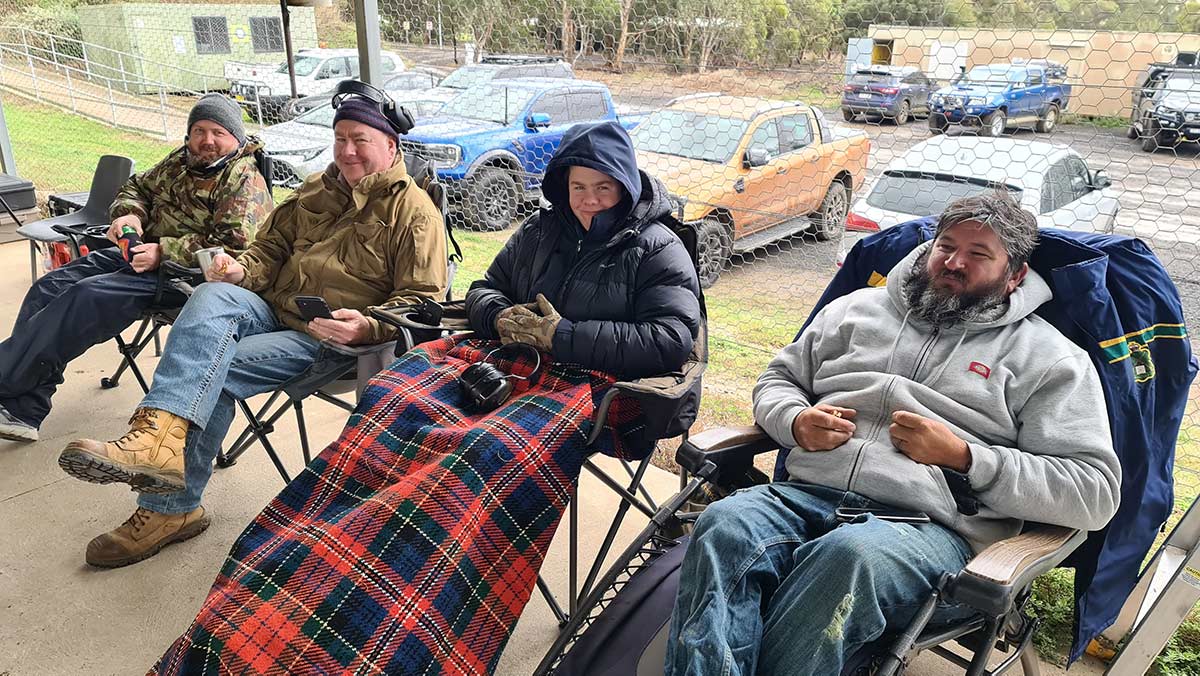 As the competitors arrived for Light Gun on Saturday morning, they found that the cold southerly front had arrived, the temperature dropped and gusting showers came through at intervals. Without a doubt, the highlight of the day was Young Eli Groves shooting a pending National record for group measuring an astonishing 0.543″. His target was also a new range record scoring 60.02. What exceptional shooting in the best of conditions, let alone the conditions that we were experiencing on the day. Matty Riches from Batemans Bay shooting his Dasher, took out LG scoring 256.06 with Dave Groves 2nd and Michael "Belly" Bell for 3rd.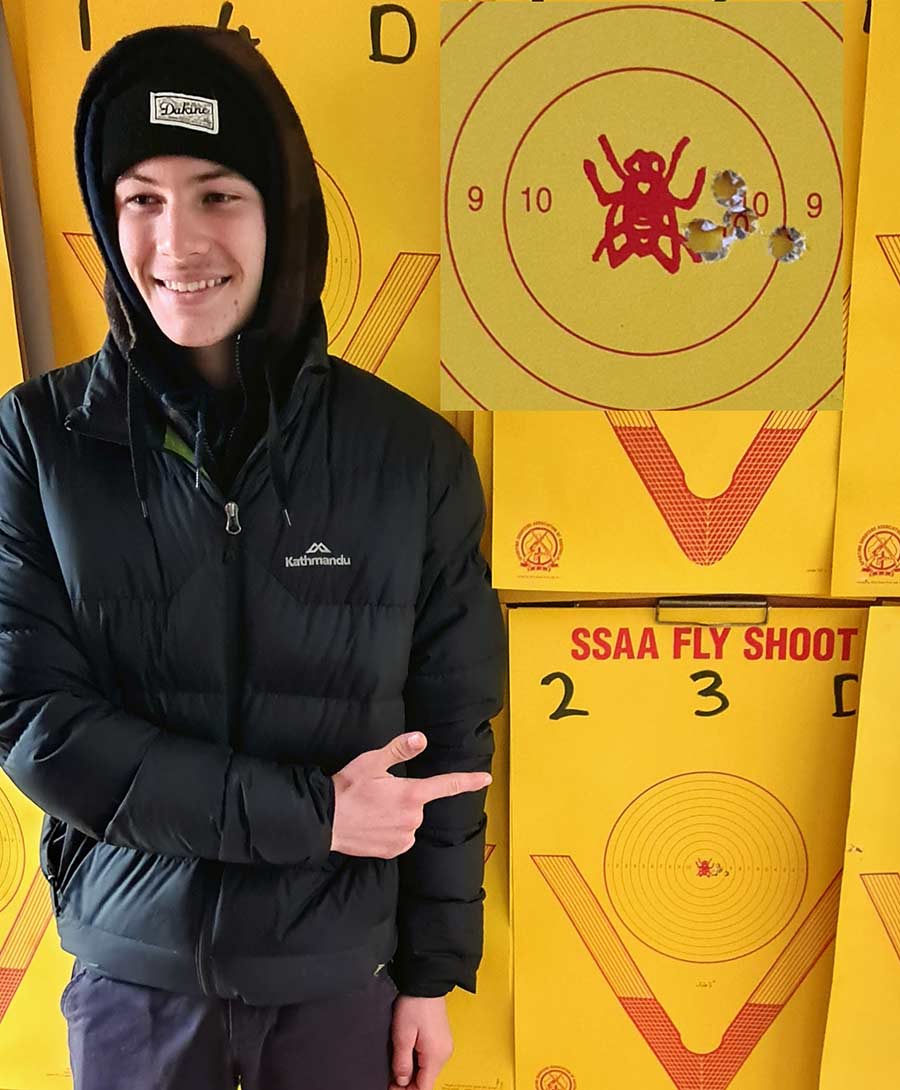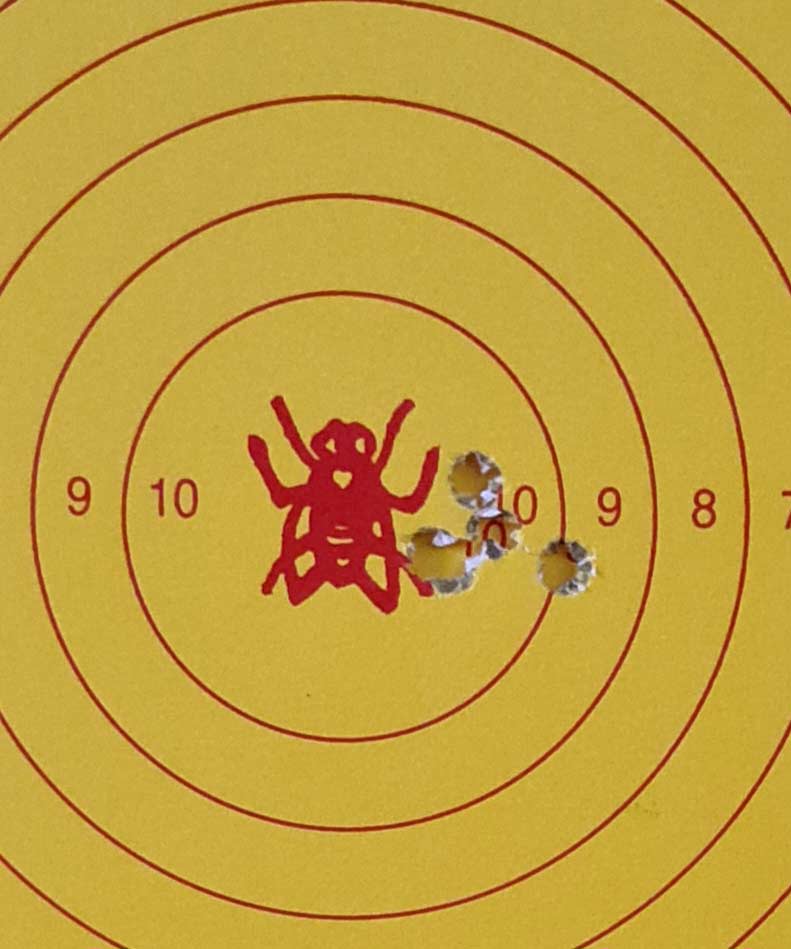 The new pending national small group record shot by Junior Shooter Eli Groves. measured at 0.543in on the day. Fantastic shooting!
On Sunday for Heavy Gun the wind was just as strong, the showers continued but the temperature dropped further. Peter Cross, also from Batemans Bay, took 1st shooting a 7 Rem SAUM, scoring 241.03, Keiton Puzey came 2nd with Matty for 3rd. Mark Lacey shot the smallest group 1.63" and Belly shot a 57.01 for the best target.
At the completion of the Centrefire competition it was Matty Riches walking away with the Jim Mckinley Trophy for highest centrefire score (LG 255.06), Dave Groves took 2nd (LG 245.04) and Peter Cross (HG 241.03).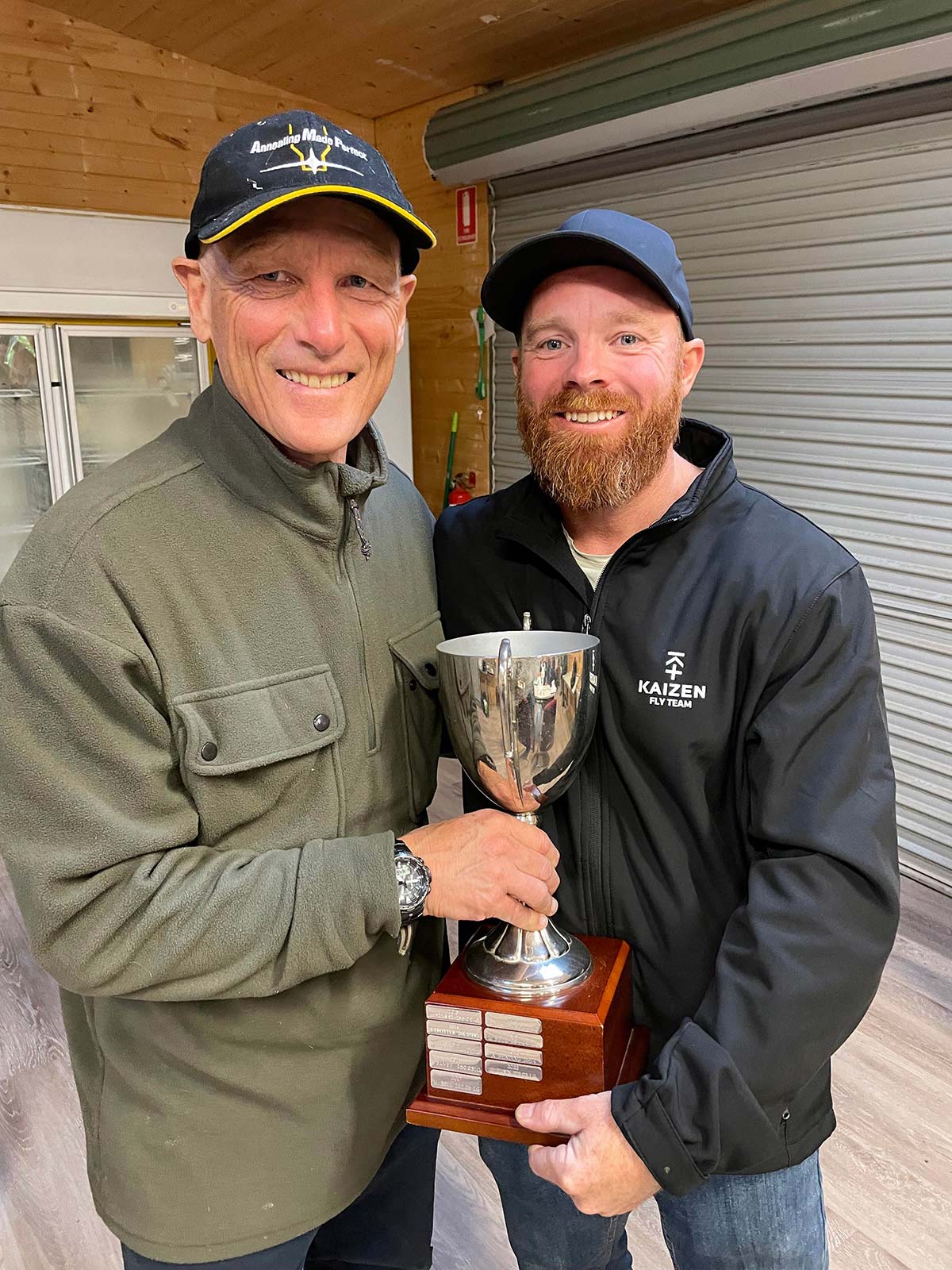 Nick Aagren presenting Matt Riches with the Jim Mckinley Cup which is awarded for the highest centrefire score at a national event
Matty also took out the 2 Gun Centrefire with a combined score of 482.07, Peter for 2nd 475.06 and Dave 3rd with 454.05.
On Monday, for the 200yd Rimfire the windy conditions prevailed. Although we did see the sun on occasion and the showers held off, it was still a very difficult day. The main focus for most of the competitors (or at least it was for this one) was just to try make every shot a scorer. Ralph Garlick scored 220.00, 15 points clear of his nearest competition to take 1st, as a result, he would walk away with the Stuart Elliott Cup. Dave Dundas for 2nd and Dave Groves took the last step on the podium for 3rd. The best target was Gavin Marshall 55.02 and Keiton shot a 1.335 for the smallest group.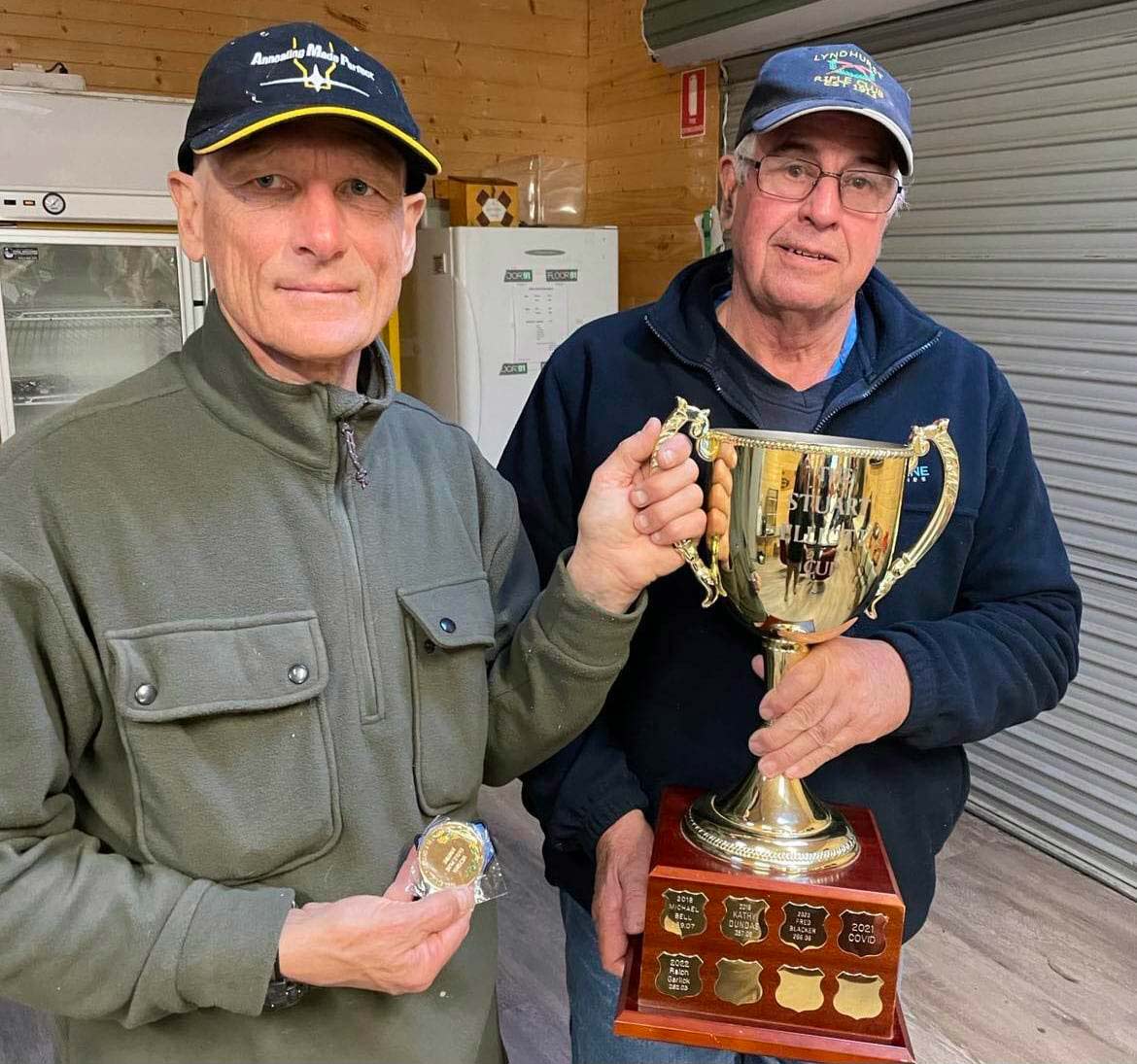 The combined CF (best score of HG or LG) + RF was won by Dave Groves with 449.07, 2nd was Peter Cross scoring 439.04 and 3rd was Belly with 433.02.
Once all the scores were in and tallied Peter Cross was the 2023 SSAA Fly Nationals 3 gun grand aggregate winner with a score of 673.07. He was lucky enough to walk away with an amazing NightForce Competition Scope which NightForce had provided in sponsorship of the event. Second was Dave Groves with and score of 658.08 and then Matty scoring 637.07 for third. Young Eli took out the juniors and finished eighth over all; A fantastic effort.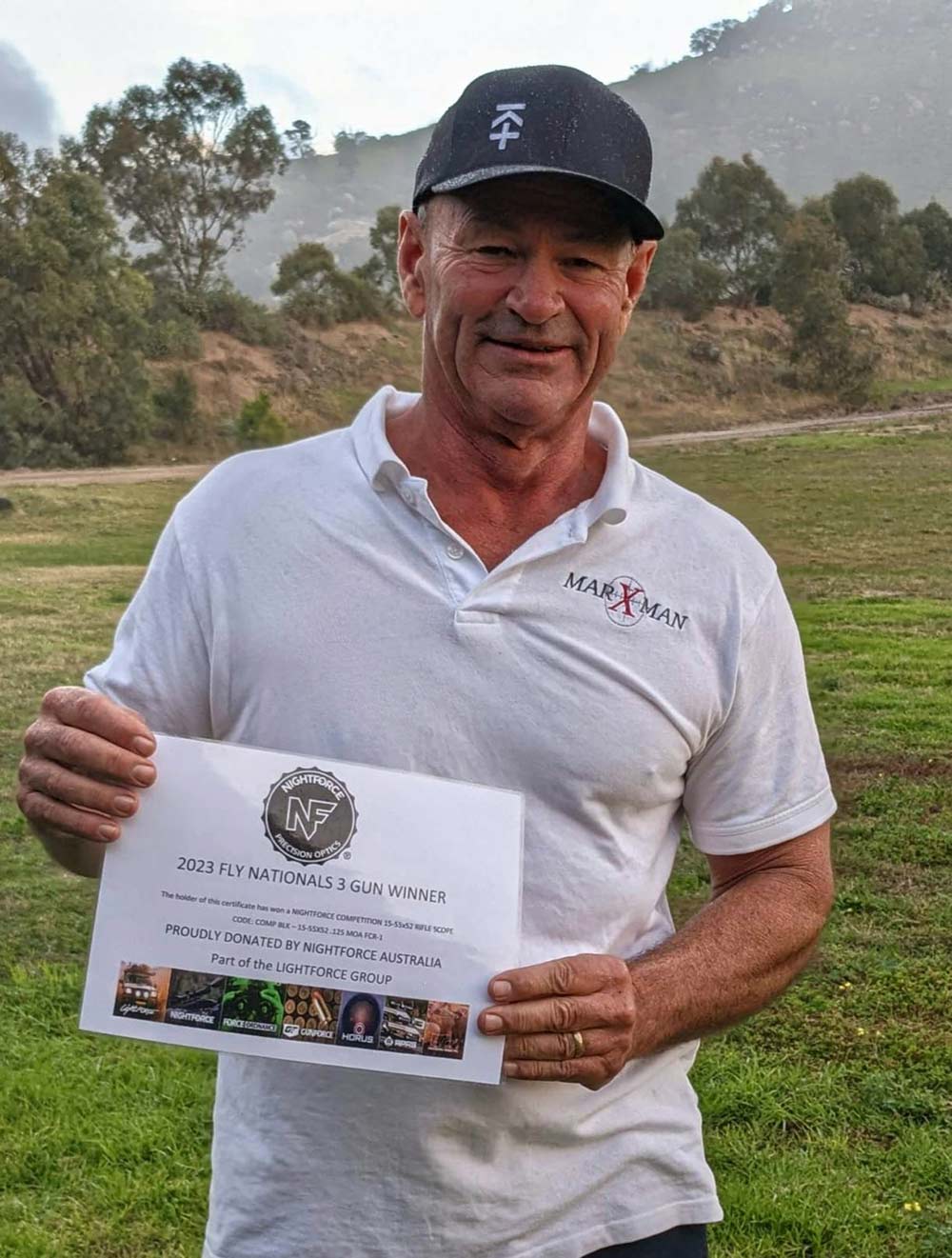 This year we saw the introduction of the State teams event in our new rulebook. The scores of the top 3 competitors from each state were tallied to give an over all combined score. NSW walked away with the Gold medal scoring a total of 1944 and 19 flies, QLD took Silver with 1807 and 20, The Bronze went to WA with 1605 and 14.
As we all know events like this just don't happen without great people giving up their own time to organise and run them. A BIG THANKS must go out to Nick Aagren, Richard Lobb, Pete and Lee-Anne Van Meurs, the Range Officers, the Target crew, all the Volunteers and the whole Victorian Fly community that made the weekend such a success. Anthony Hall doing the data entry and posting the scores all weekend. Greg "Chappo" Chapman who arranged for NightForce to sponsor the event and donate one of their Fantastic NF competition scopes. Matty who spent so much of his time redoing the Flyshoot website and making registration to these events so effortless. Dave Groves as our Discipline Chair for all the hard work and time he dedicates to our sport.