As the new shooting season approaches, I thought it was about time to post another article. Actually, It's well & truly overdue.
Just recently there has been a little unrest at some levels within the Fly Shooting ranks which has caused me to think back on how it was that I entered the sport. Fly Shooting was sold to me as a sport that had a high level of competitive spirit with an even higher level of camaraderie. I was told that everyone was welcome; that help would be given if wanted & that a very friendly atmosphere existed at all ranges.
I found very quickly that everything I was told was in fact true & so I was very satisfied with my decision to pursue this discipline. Genuine friendships have been forged which were formed at the ranges but have now extended into our personal lives outside the range.
I began to wonder about the true "spirit" of the Fly Shooter & who might best encapsulate that spirit. Maybe there was a story in there somewhere! I knew I could attend any match, throw a handful of small stones in the direction of any group of participants and know that any person touched by a stone could easily have a little story written about them as I know the spirit I speak of is strong in just about all.
To my mind though, there is a standout… Not long ago I asked this gentleman if he would agree to a story on the 500 Fly website. "Why the bloody hell would you want to do a story about ME? " was the reply.
This type of reaction was not unexpected as he has a genuine modesty that prevents him from seeking the limelight. This attitude, of course, is the exact reason I wanted to do the story. He's not in it for fame or fortune & whilst he obviously enjoys shooting high scores it definitely isn't everything. He's been to just about every match that I've attended over the last six years, he's worked very hard at it in a quiet sort of way & he's enjoyed success at the highest level.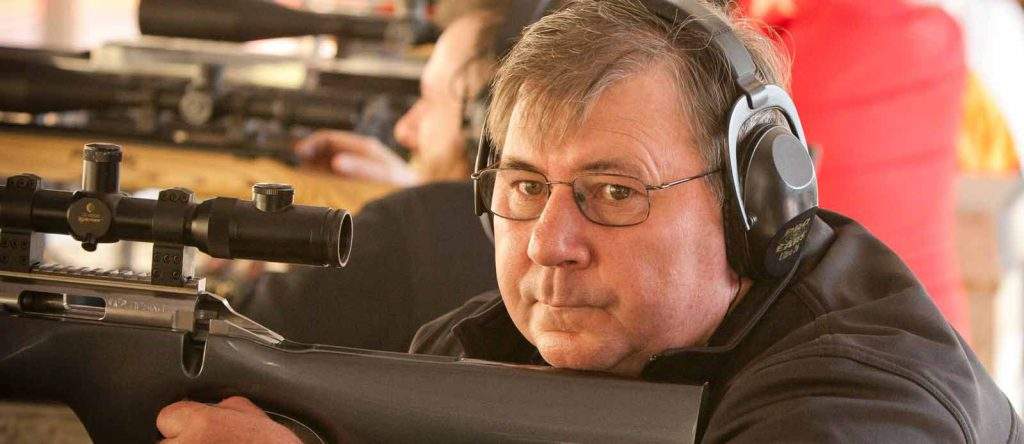 The person to whom I refer is none other than our 2016 National Fly Shooting Champion, Tim Pavey.

Tim grew up on a farm between Peak Hill & Dubbo in central NSW. He became hooked on shooting as a ten-year-old & spent all his free time eliminating the usual farm pests with a Remington 22. He soon upgraded to a 22 hornet & eventually a .243. He also became interested in bow hunting as a 13-year-old and is looking forward to getting back into this in his retirement.
He began Fly shooting way back in 1998 at the Tamworth & Peel Valley Rifle Club. As this was a military range there were no benches and so these early matches were shot while lying prone on the ground. Tim states that "we knew so little about the sport that we fired three sighters onto a manually marked target frame & then fired off a five shot group on the record target", a little like 1000 yard benchrest.

In 1999 they built 10 benches at this range & had their first official Fly match in 2001. The NSW State titles were held there from 2002 until 2006. There were no slick 6mm Dashers in those days & Tim shot a standard Remington 700 Police model in .308 with a 3" plate bolted to the bottom of the stock & a 25 power scope.
Sydney Cup Fly Patches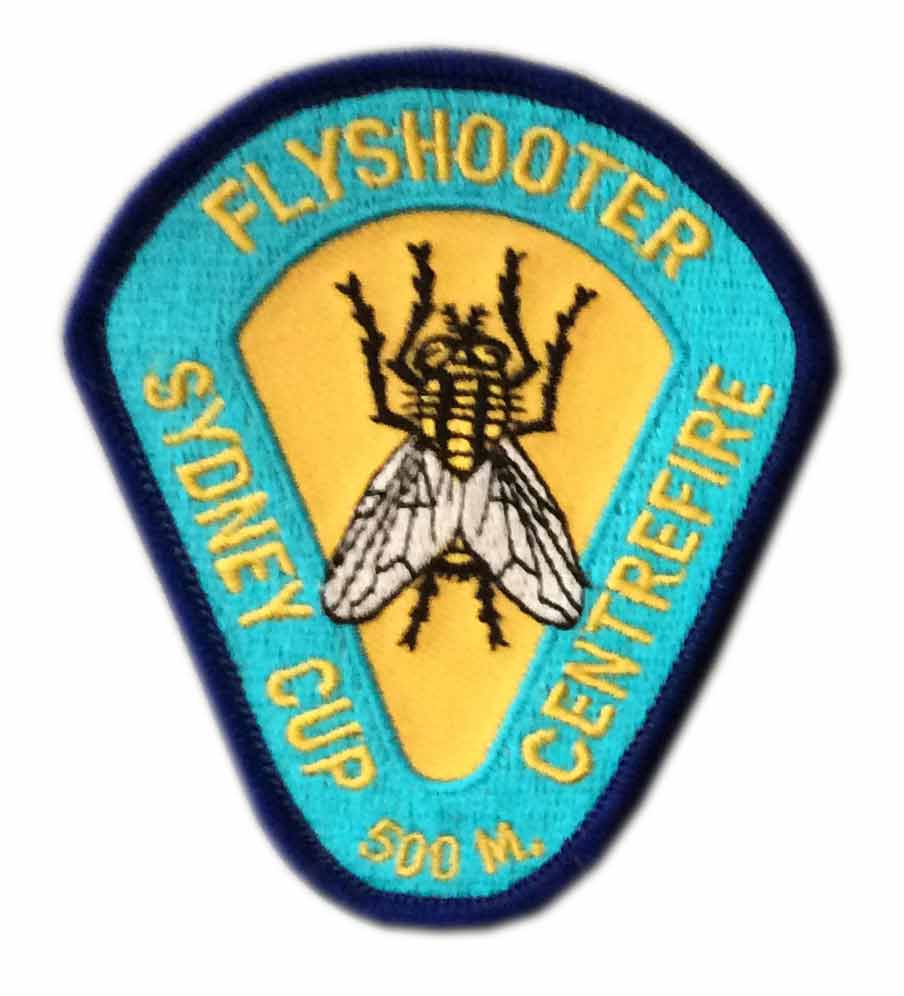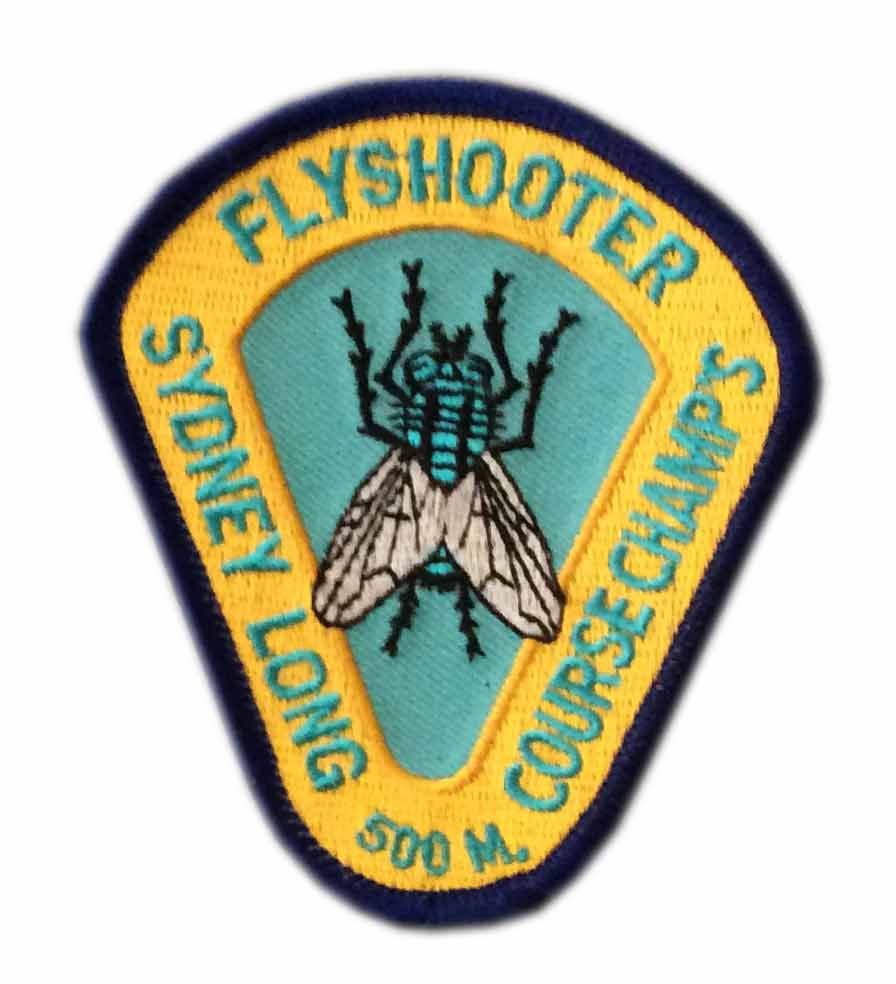 He has shot 300 metre matches at Leeton, Wagga, Batemans Bay, Warwick & just recently at Mudgee in 2016. He has also shot Rimfire Fly at many of these ranges.

Regarding equipment; Tim spent the early years shooting & re-barreling his trusty .308 as previously described. In 2003 he re-chambered to .30/06 Ackley Improved. In 2005 he fitted a Tobler barrel & acquired another stock. He shot the .30/06 until 2012 when he re-chambered to 6mm BR which in Tim's view did not work very well.
In 2011 Tim started shooting a 6.5 x .284 built by Pete Van Meurs around a Nesika action. It took a while for Tim to work out the right bullet/powder combination but as a fellow competitor, I can testify that Tim shot some very small groups with this rifle! It's fair to say
Tim got his best results at 1000 yards with the 6.5 x .284.
In 2001 Tim began travelling to matches, a habit that hasn't abated, in fact it's become an epic journey. He shot the Canberra Fly Match for the 1st time that year with the same .308, albeit with a new barrel. He shot his 1st Federal Cup in 2002 & finished exactly middle of the field in light gun. Since then Tim has shot 500m Fly matches at Tamworth, Guyra, Brisbane ( on four occasions ), Hornsby ( Sydney Cup**long & short course ), Townsville ( on three occasions ) as well as most matches at Batemans Bay, Wagga & Canberra.
He moved to the Hunter Valley in 2007 which placed him a little closer to Little River enabling him to compete there probably five times. He also travelled to South Australia to shoot in 2015.** The Sydney Cup was a 10 target fly shoot which later became a 5 target match in 2005. These were 2 day matches catering for centre fire at the Hornsby range followed by a 200 rimfire Fly at Silverdale the following day.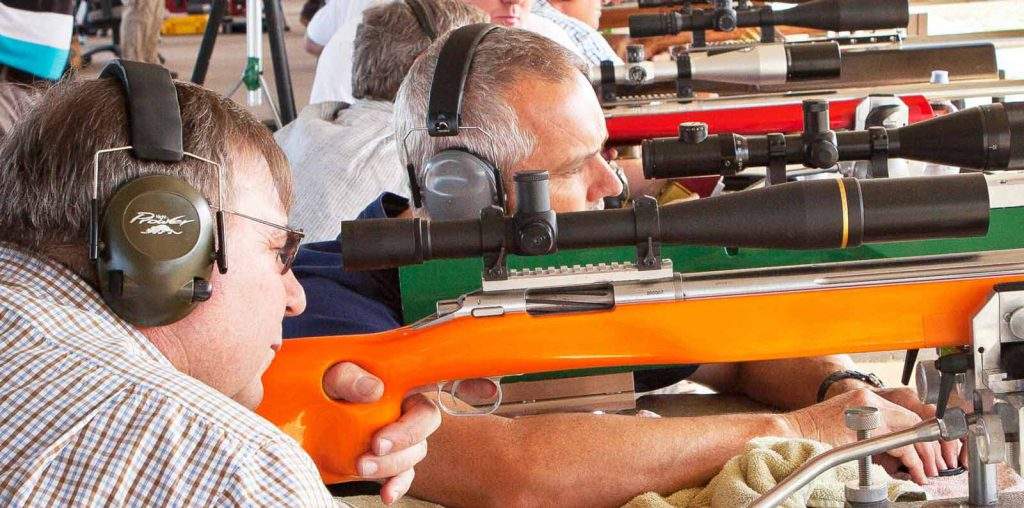 In 2014 Tim contracted Matt Paroz to build a 6mm BRX on a Borden action. He started shooting it in 2015 and quickly put some really good scores on the board. The pinnacle of his shooting career was to arrive early the next year with a very well deserved win at the 2016 Nationals at Majura Canberra with a stunning 260.03.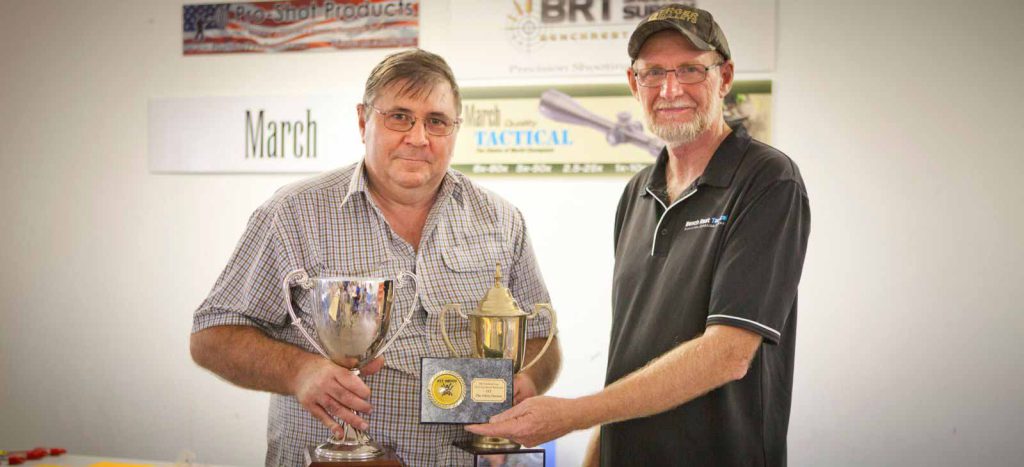 This little story is actually about many Fly shooters and I'm using Tim as an example of an individual who encapsulates the "Spirit" of a Fly Shooter. I'm pretty lucky because I work for myself, that is to say if I know the event dates well in advance I can simply block out the time in my work diary and with minimal effort get to just about as many matches as I like…..well…I still have to juggle family etc but I'm sure it's a lot easier for me than most.
I had to ask Tim how he does it (knowing full well most shooters are in the same boat) as it must be very difficult to balance work & family commitments & manage to get to so many of these matches over such a long period of time! "Yes!" Says Tim, "getting the time off does take a lot of planning in advance and a very understanding boss. I will regularly work stretches of 9-10 days straight in order to get 3 days off for a Fly match". "Ros ( Tim's lovely bride ) is also very understanding & only gets a bit uptight when I bulk buy components or talk about new rifles".

I also asked Tim about his practice regime…Do you practice & fiddle with powder types and projectiles much? " I don't have access to a 500 metre range near home & really I don't have much time available to me other than the days I take off for the match…so…very little practice and load development is usually done the day before a match or actually during the match!".

I ask Tim about the .30/06.."Given there seems to be a bit of a resurgence in this old caliber, would you have another go at it?" " I have given it some thought, with modern barrels & actions but I would like to try a .30 x .284 first!".

"What's in the future Tim? you've been at it for a long time! Will you continue?".

Without an eye blink Tim replies…"I will continue as long as I can see & hold a rifle". "I enjoy driving long distances (Tim estimates he has driven nearly 100,000 klms to attend these shoots ) & I never tire of Fly Shooting" "I consider all the competitors my friends & enjoy very much the camaraderie"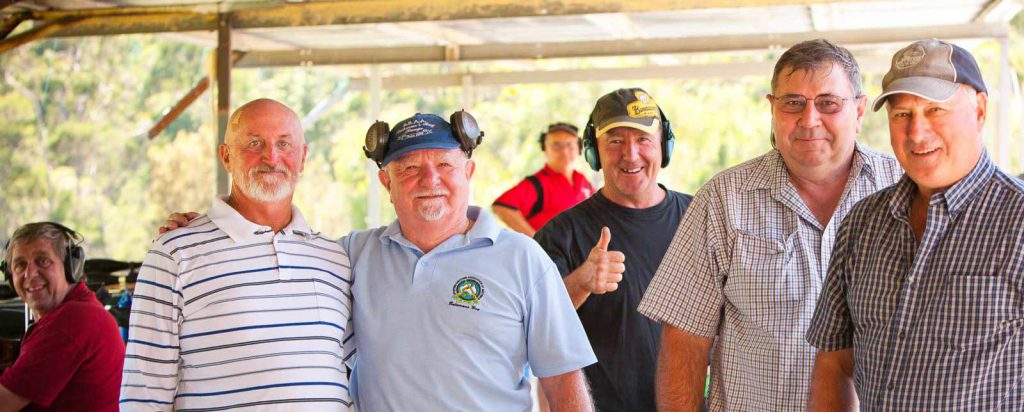 I have never heard it said better! …The "Spirit" of the Fly Shooter is indeed alive and well, embedded in the personality of our 2016 National Champ and many others just like him who shoot to do the best they can do but also, and perhaps primarily, for the love of the game!

All the best for the 2017 season,..Belly.